Cook and serve aromatic dishes to your loved ones prepared using this Prestige 7.5 L Pressure Cooker. This kitchen essential features a Machine-pressed Aluminium Base, an Outer Lid, and a Metallic Weight Valve to ensure that your cooking is safe and the food is mouth-watering.
Machine-pressed Aluminium Base
The thick machine-pressed aluminium base has a slightly concave bottom. As a result, the shape of this pressure cooker is retained for a long time.
Aluminium Body
Made of virgin aluminium with a metallic red finish, this pressure cooker is not only durable but also aesthetically appealing.
Outer Lid
This outer lid pressure cooker works well while using separators and idli stands.
Precision Weight Valve
To ensure durability, this pressure cooker comes with a stainless steel weight valve. It releases pressure above 1kg/cm2, which helps save time and make cooking safe.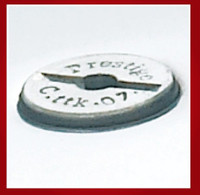 Metallic Safety Plug
The metallic safety plug is fitted on the lid to release excess pressure thereby ensuring maximum safety.
Durable Handles
Not only do these handles provide a firm grip but they also ensure easy maintenance.